Artellegent VR Sales Tool
Live Guided Tours to Increase Conversions Online
Simple Sharing.
Just Send a Link.
Share a simple link to your customers that allows them to join a collaborative chat room with the virtual tour, allowing you to make convincing sales pitch.
Remote Client Demo.
Anywhere Across the Globe.
No matter where your clients are, you can now use VR sales tool to showcase them your projects without having to travel.
Guide Mode and Lock.
Get Complete User Control.
During your presentation, you can point at specific features in your project and switch the guide mode, which can bring your client's attention where you would want.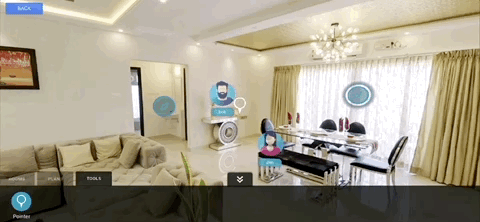 Use Any Device.
Cross Platform Experience.
Our platform is built to work on any device, from mobile, to tablets, to monitor or even VR headsets. Your virtual tour presentation can be universal.
Connect with Clients.
Inbuilt Voice and Video Chat.
With inbuilt voice and video, you can now showcase your projects virtually and give a virtual site visit. Our sales tool exactly mimics the real site visits digitally.
Offline Collaboration.
Built for Indoor events.
Now you can showcase your projects in a much more engaging manner at all your exhibitions and launch events with connected sales pitch.
Save Time and Money.
Convert Clients Faster.
With Virtual Presenter, you can convert your leads faster, without having to travel multiple projects. Save time and money in every project.